Making homemade glazed donuts is easier than you can imagine, they are quick and ready in just 2 hours. These chocolate donuts are fluffy and have a sweet and delicious melt-in-your-mouth taste. They taste like Krispy Kreme donuts, This is a perfect Krispy Kreme donuts copycat recipe. This glazed donuts recipe is a must-try.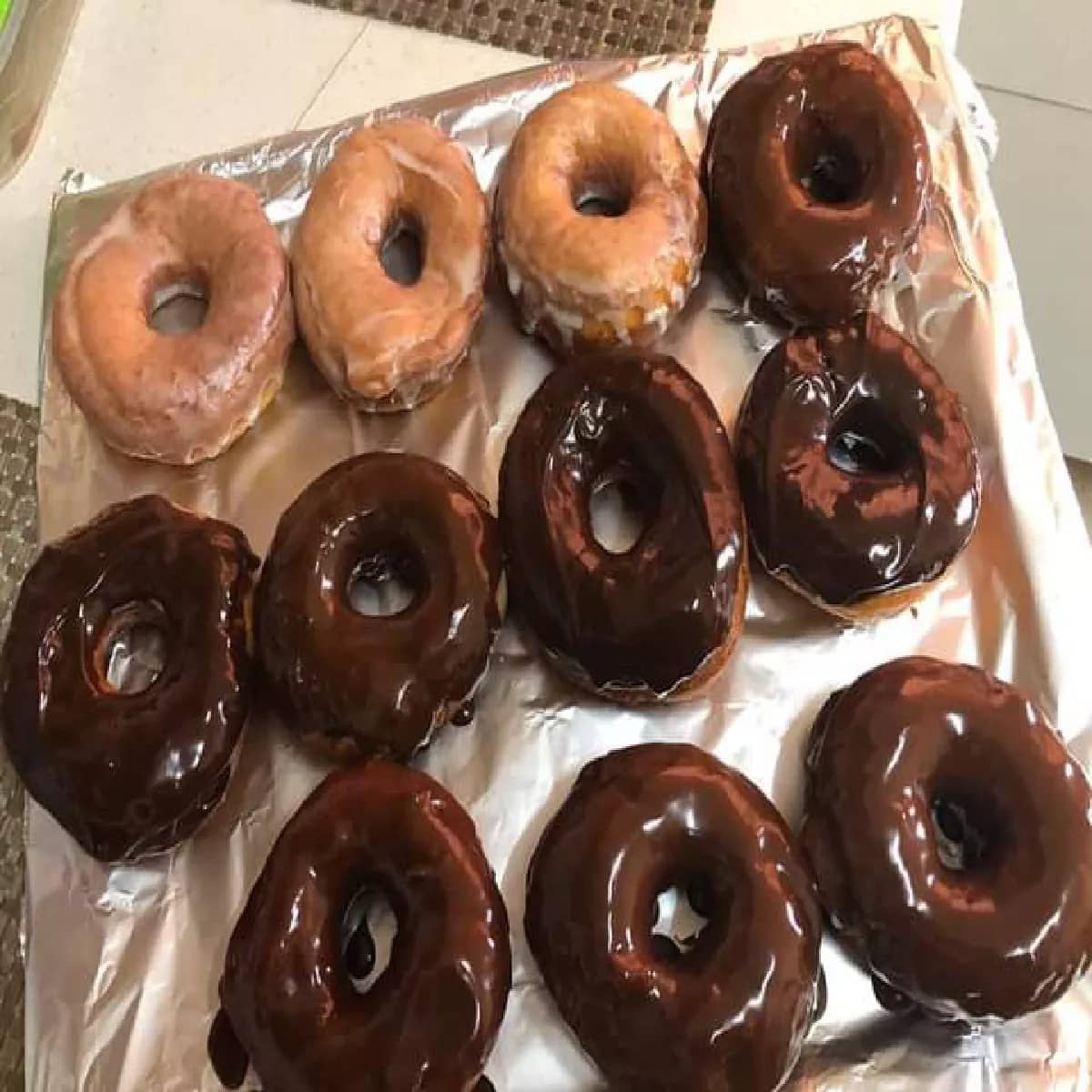 Homemade vanilla glazed doughnuts that taste like doughnuts from your favorite store but are more delicious, yet they are made from the comfort of your home. These homemade donuts are more enjoyable than the ones you buy at a donut store because they are made from scratch and are made using your favorite ingredients.
Homemade donut holes in 2 flavors. These vanilla glazed donuts and chocolate glazed donuts will give you a cakey deliciousness feel. If you are a donut lover, you have to try these glazed donut holes.
Perfect for anyone who can't make up their mind on what flavor to go for, they can be glazed with any flavor to satisfy your craving.
These are the old-fashioned yeast-raised doughnuts, they are fried not baked. Although you can use baking powder and also have baked donuts, I prefer fried donuts.
These yeast doughnuts are worth the wait.
GLAZED DONUT INGREDIENTS
Here are the ingredients you need to make donut holes.
Flour- I use all-purpose flour for this glazed donuts recipe. Other flours like can work well but nothing beats AP for this easy recipe.
Butter- use unsalted butter since you are going to add salt to the doughnut dough.
Salt- to taste.
Yeast – check the expiry date. It's advisable to always check the expiry date as donuts may not rise if the yeast is expired.
Eggs – eggs add to the flavor although can be omitted.
Sugar – there is no vanilla donut without the sweetness that comes with it.
Vanilla extract – vanilla extract is main ingredient in the vanilla glaze, so I thought of adding the vanilla extract in the dough too, for perfect vanilla donuts.
Milk- a cup of whole milk.
GLAZE INGREDIENTS
CHOCOLATE GLAZE
Chocolate glaze might look intimidating and hard to make but it's really easy. It's made with icing sugar, Dark chocolate, butter, and water. The thought of making this glaze gave me the zeal to make this glazed donuts recipe.
VANILLA GLAZE
vanilla glaze also known as vanilla icing, this glaze key ingredients are icing sugar, vanilla extract, milk and salt.
HOW TO MAKE GLAZED DONUTS

Let me walk you through the step by step process of this glazed donuts recipe. The process might seem a bit intimidating but trust me it's very easy.

PREPARE YEAST. Add yeast to a cup of lukewarm milk and set aside.
PREPARE THE DOUGH. It comes together with the help of a hand mixer or a stand mixer. You can use a wooden spatula if you do not have a mixer.
Get a mixing bowl and add flour, salt, and butter. add beaten eggs. Mix using a wooden spatula or a mixer. Add yeast mixture and vanilla mixture. Knead till the dough is soft and doesn't stick to your hands.
After the dough comes together in the mixing bowl, knead it for 2 minutes.
Let the dough rise. In a relatively warm environment, the dough rises in about 60 minutes.
RELEASE AIR.
After it's well risen, punch down the dough to remove the trapped air.
ROLL AND CUT.
Remove the dough from the bowl and place it on a flat board sprinkled with some flour.
Using a rolling pin, roll dough into a flat round shape. Cut doughnuts using a doughnut hole cutter.
Cover donut holes with a kitchen towel and allow to rest while you prepare your oil.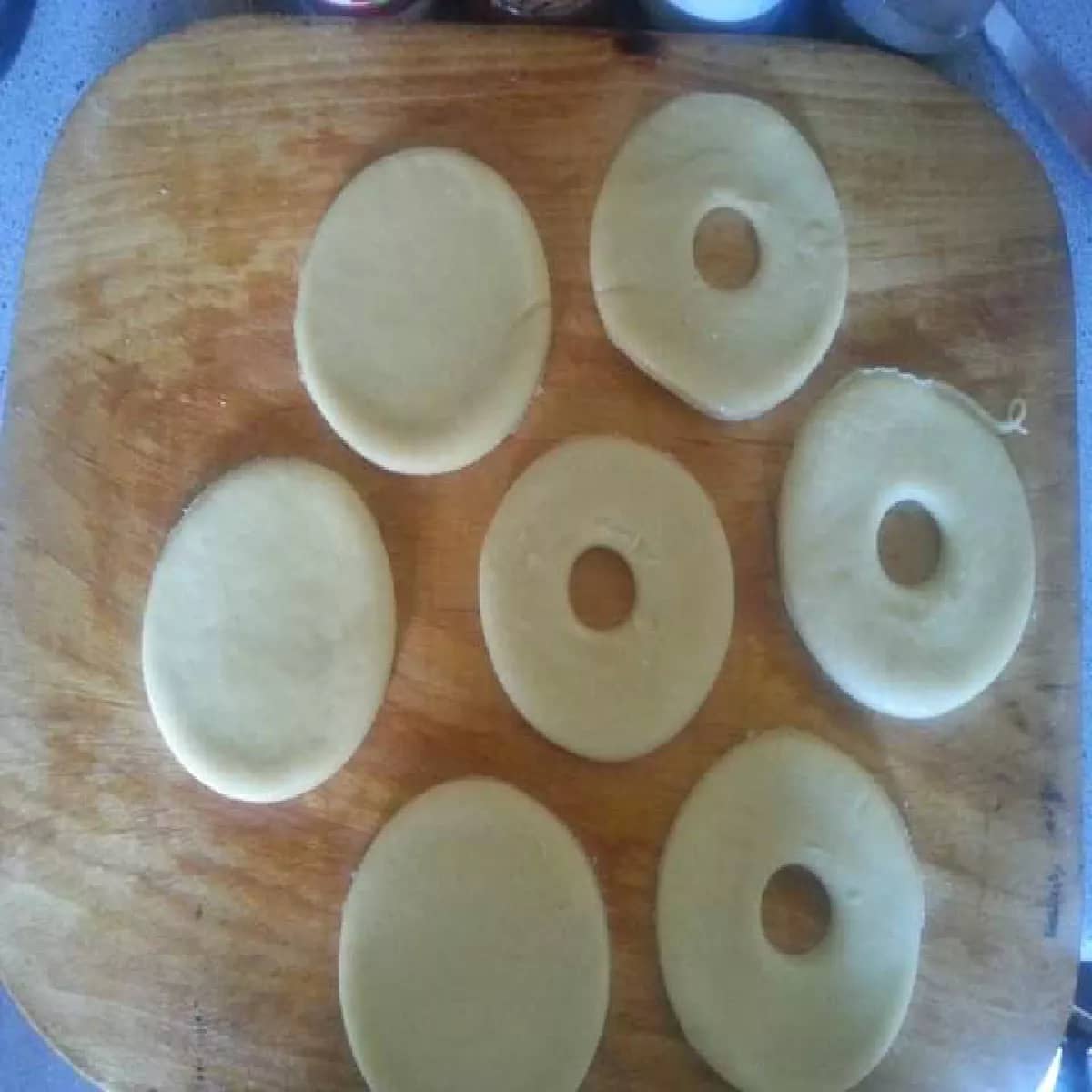 PREPARE OIL.
Prepare the oil. Using a heavy-duty pot and an oil thermometer, heat the oil to 375°F/ 191°C. If you do not have a thermometer then dip a small dough into the oil to test if it's hot enough.
FRY THE DONUTS.
Working with 2-4 donuts at a time, cook for 1 minute on each side. Til golden. Carefully remove from the oil and place onto the prepared rack. Repeat with remaining doughnuts.
MAKE GLAZE.
Make the glaze. Dip each warm doughnut into the glaze and coat both sides. After about 20 minutes, the glaze will set.
FREQUENTLY ASKED QUESTIONS
Can I Bake Donuts?
Yes you can. But use baking powder for that perfect cakey donut recipe.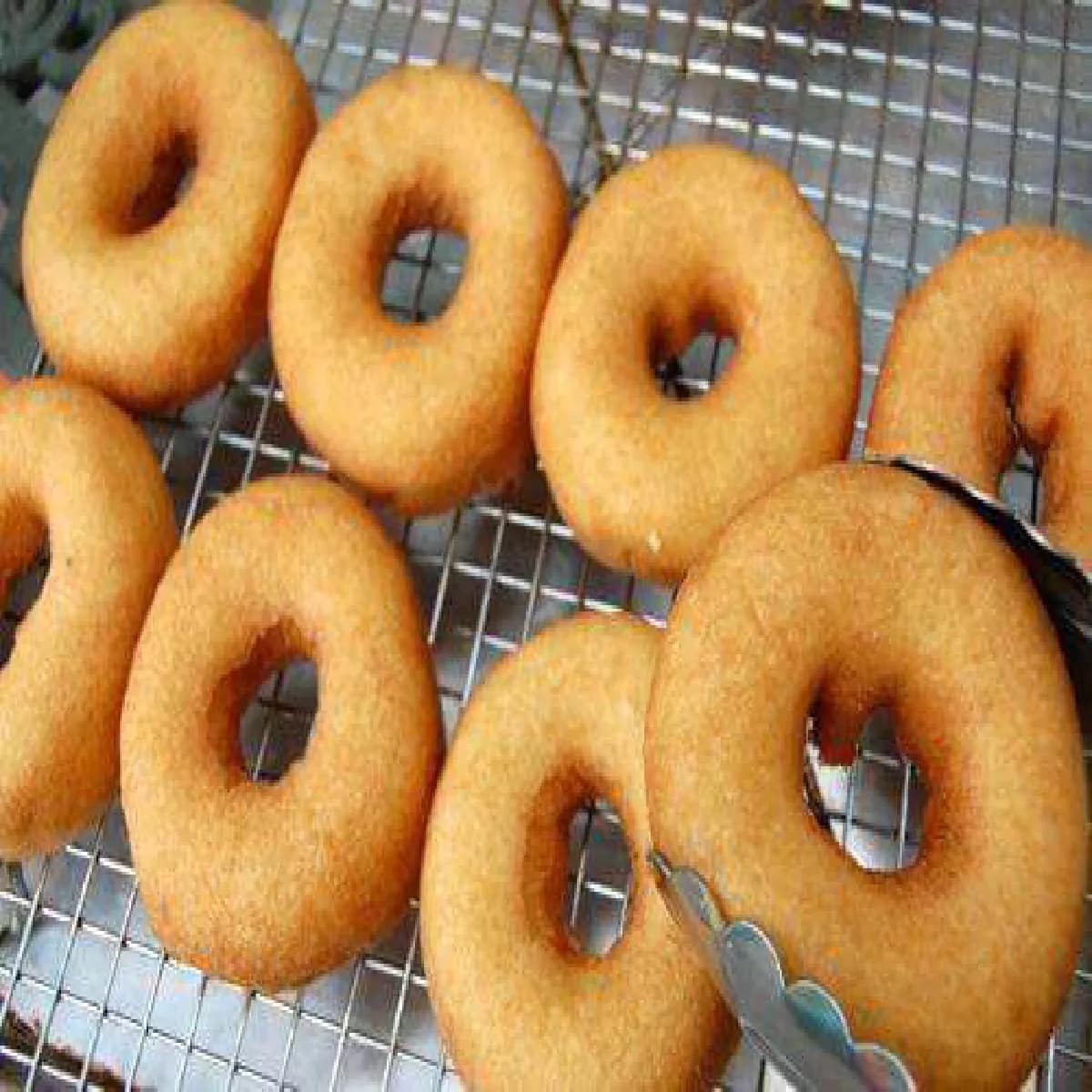 What's the best oil for frying?
Use olive oil, peanut oil, vegetable oil, or sunflower as they have a high smoke point.
Can I make the dough ahead of time?
Yes!. Make the dough and put it in the fridge in a sealed container. Do not expose the dough to air otherwise, your donuts will be ruined.
How do I store leftovers?
Store leftover doughnuts in an airtight container in the fridge. When in the microwave when ready to serve.
Can I freeze donuts?
Absolutely.
Allow the donuts to cool to room temperature, wrap them in a plastic wrap then transfer them to a freezer-safe bag. Freeze for up to three months.
When ready to eat thaw overnight in the fridge and reheat.
Can I substitute some ingredients?
Absolutely. You can make these donuts without milk and vanilla. These two ingredients were just some add-ins so you can substitute them.
Can I use buttermilk in place of whole milk?
Yes, you can use buttermilk.
Can I use other flour other than all-purpose flour?
You can use bread flour, your donuts will be just as delicious.
MORE BREAKFAST RECIPES
Glazed Donuts Recipe
Tasty chocolate donuts made from scratch. With this fried chocolate donut recipe, you'll have fresh homemade donuts in less than an hour.
Print
Pin
Rate
Save
Saved!
Save
Saved!
Equipment
Donut cutter

Heavy-duty pot

Rolling board

Rolling Pin
Ingredients
Dought
1⅛

cup

whole milk

warm

¼

cup

sugar

2 ¼

teaspoons

Instant Or Active Dry Yeast

2

whole large eggs

lightly beaten

10

tablespoons

unsalted butter

melted

4

cups

all-purpose flour

½

teaspoon

salt

Vegetable oil

For frying
Chocolate Glaze
6

tablespoons

cocoa powder

5

tablespoons

butter

1

cup

icing sugar

¾

teaspoon

vanilla extract

2

tablespoons

hot water
Vanilla Glaze
1

cup

icing sugar

3

tablespoons

milk

½

teaspoon

pure vanilla extract

Pinch

of salt optional
Instructions
DONUTS
Whisk the warm milk and yeast. Let the yeast rest for 5 minutes.

Add the beaten eggs, melted butter, vanilla extract, salt and flour to the mixing bowl and stir to combine. Create a well at the center and add the yeast mixture. Mix til dough is incorporated.

Transfer the dough to a floured work surface and knead for about 5 minutes. The dough should be soft and moist but not sticky.

Place the dough in a large greased bowl and grease the surface of the dough to prevent it from drying out. Leave to rise for an hour or until doubled in size.

After the dough has risen, punch down to remove trapped air.

Transfer to a work surface.

Using a rolling pin, roll the dough until it's ½ to ⅓ inch thick. Using a three-inch doughnut cutter cut the donuts into donut holes.

Set the cut doughnuts aside and repeat with the remaining dough.

Cover with a kitchen towel and leave to rise for 30 minutes or until doubled in size. The doughnuts will be airy and puff.

Heat oil in a heavy-duty pot or cast iron skillet to 375°C. Carefully add the donuts to the hot oil and fry for 1 minute on each side until golden brown

Use a slotted spoon to remove the doughnuts from the hot oil and place on a wire rack or on a paper towel to remove the excess oil.

Let them cool slightly and dip in the chocolate and vanilla glaze.
CHOCOLATE GLAZE
In a small saucepan, over low heat melt 6 tablespoons of cocoa powder and 5 tablespoons of unsalted butter for 5 minutes. Remove from heat and stir 1 cup icing sugar and ¾ teaspoon vanilla extract. Stir in 2 tablespoons of hot water, one tablespoon at a time until the chocolate glaze is smooth and thick
VANILLA GLAZE
Whisk icing sugar, 2 tablespoons of milk, ½ teaspoon vanilla extract and pinch of salt.

Add a tablespoon of milk to thin out the vanilla glaze and add a tablespoon of icing sugar to make it thick.
Video
Notes
Freezing Instructions:
Freeze unglazed fried donuts by allowing them to cool completely, then freeze for up to 3 months.
Heat:
Thaw in the refrigerator then reheat in the microwave. Glaze the donuts after repeating.
Nutrition
Serving:
1
g
|
Calories:
155
kcal
|
Carbohydrates:
24
g
|
Protein:
4
g
|
Fat:
4
g
|
Saturated Fat:
2
g
|
Cholesterol:
31
mg
|
Sodium:
41
mg
|
Potassium:
62
mg
|
Fiber:
1
g
|
Sugar:
5
g
|
Calcium:
22
mg
|
Iron:
1.3
mg